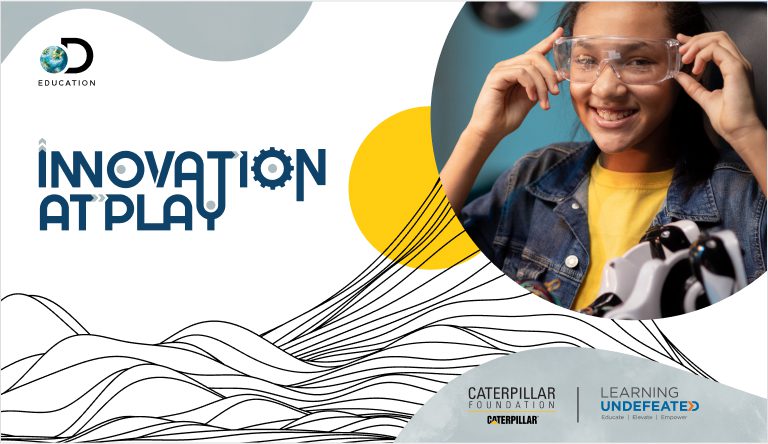 Innovation at Play offers digital resources to make learning fun for 9–12 grade students   
Charlotte, NC (Friday, May 19, 2023) – Discovery Education, the Caterpillar Foundation, and Learning Undefeated today announced the launch of a new education initiative – Innovation at Play. This unique program leverages the power of play by using engaging, hands-on digital resources to educate and inspire students in grades 9-12 to consider exciting careers in a variety of STEM professions.
Innovation at Play provides standards-aligned digital resources that make it easier than ever for educators, after-school instructors, and parents to connect STEM concepts to potential career pathways. Classroom activities, play-inspired lessons, and phenomena-based videos exemplify how curiosity drives STEM solutions while empowering students to learn by doing and seeing. The content will equip students with the right skills and knowledge to pursue STEM careers at home, in the classroom, or wherever learning takes place.
"The future STEM innovators are sitting in classrooms all across the country. No matter where they are, Innovation at Play will empower students to connect their STEM curiosity with STEM skills to solve problems and secure careers," said Asha Varghese, Caterpillar Foundation President.
Innovation at Play sources STEM creativity and stories from industry experts at Learning Undefeated who have an extensive history of innovation, insights, and leadership. The non-profit is a long-standing partner of Discovery Education.
"Innovation at Play connects students to the innate power of play and the power of STEM, in order to change the world," said Jennifer Colvin, Chief Innovation Officer at Learning Undefeated. "When students have a fun, hands-on learning experience, it brings them one step closer to imagining a career path that involves STEM."
Learn more about Innovation at Play at InnovationatPlay.com or within Discovery Education's K-12 learning platform. Connecting educators to a vast collection of high-quality, standards-aligned content, ready-to-use digital lessons, intuitive quiz and activity creation tools, and professional learning resources, Discovery Education provides educators with an enhanced learning platform that facilitates engaging, daily instruction.
"Students are naturally creative and curious, using play as a universal language. Innovation at Play puts fun at the center, empowering students to explore, problem-solve, and engage in authentic STEM experiences in ways most relevant to them," said Amy Nakamoto, General Manager of Social Impact at Discovery Education.
For more information about Discovery Education's award-winning digital resources—which can be purchased with federal stimulus funds—and professional learning services, visit www.discoveryeducation.com, and stay connected with Discovery Education on social media through Twitter and LinkedIn.
###
About the Caterpillar Foundation
Founded in 1952, Caterpillar's philanthropic organization, the Caterpillar Foundation, has contributed more than $850 million to help make sustainable progress possible around the world by building resilient communities that thrive in a rapidly changing world. To learn more about the global impact of the Caterpillar Foundation, visit caterpillar.com/foundation. To connect with us on social media, visit caterpillar.com/social-media.
About Learning Undefeated
Learning Undefeated is driving race and gender equity in STEM through experiential and deep-impact learning experiences for students from under resourced communities. Best known for its fleet of traveling STEM laboratories, Learning Undefeated's flagship STEM education program has prepared more than 1.5 million K-12 students for STEM careers since 2003, through hands-on content exploration, game-based learning, summer camps, and talent development programs. In 2022, Learning Undefeated's shipping container based Drop Anywhere Lab won the Best of STEM Awards in the Social Impact: Promoting Diversity, Equity & Inclusion category. Learning Undefeated also operates several other celebrated STEM education programs including custom curriculum development and STEM disaster recovery education. Visit learningundefeated.org or follow us on social media @LearningUNDFTD.
About Discovery Education
Discovery Education is the worldwide edtech leader whose state-of-the-art digital platform supports learning wherever it takes place. Through its award-winning multimedia content, instructional supports, and innovative classroom tools, Discovery Education helps educators deliver equitable learning experiences engaging all students and supporting higher academic achievement on a global scale. Discovery Education serves approximately 4.5 million educators and 45 million students worldwide, and its resources are accessed in over 100 countries and territories. Inspired by the global media company Warner Bros. Discovery, Inc. Discovery Education partners with districts, states, and trusted organizations to empower teachers with leading edtech solutions that support the success of all learners. Explore the future of education at www.discoveryeducation.com.
Contacts
Jamie Cecil-Monari
Caterpillar Foundation
CecilMonari_Jamie@cat.com
Grace Maliska
Discovery Education
gmaliska@discoveryed.com