STEM Spotlight
Take a look at these highlights of some of our STEM rockstars, people working in the STEM fields that inspire us! visit video gallery >
The mid-Atlantic region is a hot spot for STEM jobs. The Washington, DC/Baltimore corridor has the second-highest concentration of STEM jobs in the country with more than one million jobs in growing fields such as game technology, wildlife sciences, and epidemiology. And, yet, we are struggling to produce graduates who are prepared for STEM careers: in the US, job positing outnumber qualified STEM workers nearly two to one.
Texas is also a great region for careers in STEM: the state is home to more than three-quarters of a million great STEM jobs in 2018, Texas will demand a total of 715,380 STEM jobs(up from 584,120 in 2008) an increase of 22% and 5% more than the national average. CLICK HERE to learn more about resources and career opportunities in Texas.
The Baltimore region is unique in that it features growth in middle-skill STEM jobs: those jobs accessible to employees with an Associate's degree or even a high school diploma. In fact, the Baltimore region is poised to add nearly 36,000 middle-skill STEM jobs by 2020. These jobs will be in the following high-needs areas: Energy Advanced Manufacturing, Information Technology, Design & Construction, Healthcare & Medical Records, and Biosciences.
Busting STEM Career Myths
Popular STEM Careers
Mechanical Engineering
Mechanical Engineering is one of the fastest growing careers in the STEM field. Mechanical engineers work to plan, conceptualize and create mechanical designs for new products. With only a four-year degree requirement mechanical engineering is one of the largest engineering disciplines to date!
Median Salary: $87,370
Schooling: Bachelor's degree
Nursing
Nursing is one of the most popular STEM careers. Nurses do a little bit of everything when it comes to medicine: administering medications, taking samples, and providing care to patients. Nursing doesn't require the same amount of schooling as doctors do, only a four-year Bachelor's degree!
Median Salary: $107,030
Schooling: Master's degree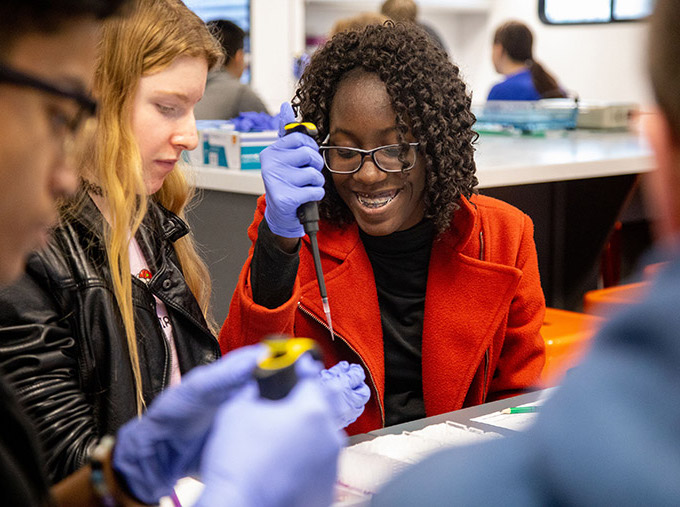 Web Developer
Web developing is one of the fastest growing careers in the STEM field. Web developers design and create websites. It doesn't take years of education to become a web developer, just some basic coding skills and an understand of how the web works!
Median Salary: $69,430
Schooling: Associate's degree
Lab Technician
Lab Technicians work in laboratories, usually medical or scientific ones, collecting data and running tests. This career doesn't need a 4 year degree and in some instances you can get a position as a lab technician with a high school diploma.
Median Salary: $37,743
Schooling: High School Diploma or Higher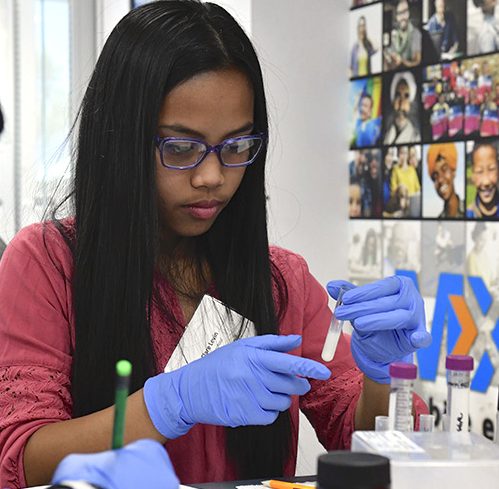 Computer Support Specialists
A computer support specialist provides technical support for a company, organization's customers, or their employer's staff. They use computer software and equipment to assist them in providing advice and help to their employer and their employee's.
Median Salary: $50,980
Schooling: High School Diploma or Equivalent
What's Next: Getting Started with Your STEM Career
START NOW.
Build a well-rounded transcript with a focus in science and math. Take advanced classes and be sure to include one math and one science class each year.
EXPLORE YOUR INTERESTS AND MAKE CONTACTS IN THE FIELD.
Experience STEM first-hand through internships, summer jobs, or other opportunities. Ask people you know to introduce you to scientists and researchers, and ask them how they got started.
GET SOME EXPERIENCE.
Fund your education with a part-time job in bioscience. Some basic positions require just a high school diploma or specialized courses at your local community college. A good way to get your feet wet is to take an entry-level position to build experience while you are pursuing a degree at a community college or university.
KEEP BUILDING YOUR SKILLS.
Even after you are employed, engage in lifelong learning. Science and technology constantly change, and it is important to know what's new and exciting.
WANT TO GET INVOLVED?
Join Learning Undefeated in providing STEM opportunities to underserved communities through the AmeriCorps program. Gain experience teaching students onboard one of our mobile laboratories and make a meaningful impact while earning money for college.