Live Virtual Teacher PD: Exploration of a Middle School Digital Lesson in Oncology
April 2, 2020 @ 10:00 am

-

10:30 am

Free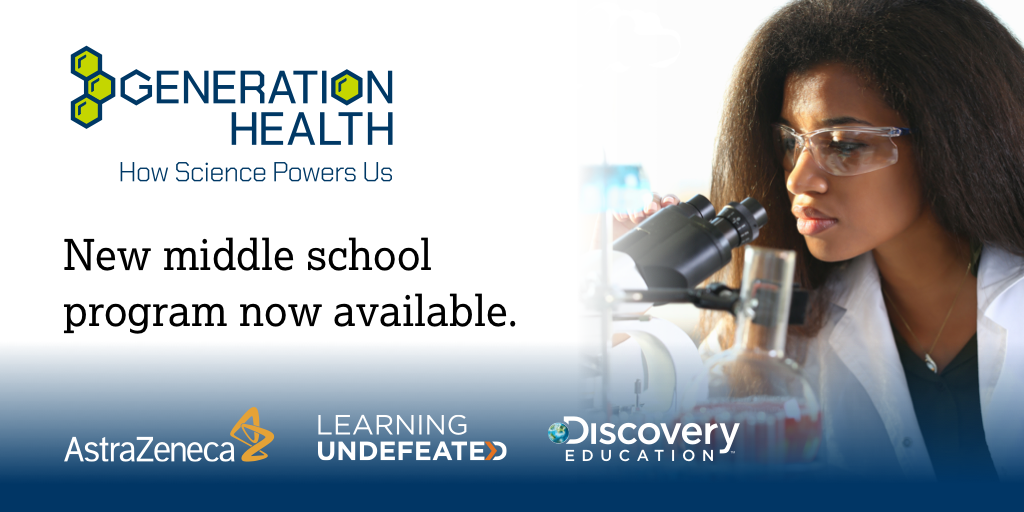 Join us for a LIVE teacher professional development opportunity, designed to introduce the FREE online resources of Generation Health: How Science Powers Us, a collaboration between Learning Undefeated, AstraZeneca, and Discovery Education. This dynamic middle school program aims to make science personal through a focus on healthy living messaging. This program provides hands-on, standards-aligned STEM learning activities where students investigate both preventative measures and innovative solutions to key health concerns in the areas of oncology, cardiovascular, and respiratory.
In 30 minutes, we will be exploring the Generation Health lung cancer digital lesson bundle. Teachers will receive access to the following resources:
Virtual Field Trip inside Maryland-based biopharmaceutical manufacturing laboratory
Educator PPT: The Best Defense Against Lung Cancer is a Good Offense
Educator guide containing standards alignment, student handouts, and activity ideas
We will cover how to access the resources, the standards, content, and how to run the activities inside the bundle. There will also be time for Q&A at the end of the session. The session will last approximately 30 minutes.
The event is free but registration is required. Register here: https://form.jotform.com/200845093227150
NGSS standards alignment
MS-LS3 Heredity: Inheritance and Variation of Traits
Students who demonstrate understanding can:
MS-LS3-1. Develop and use a model to describe why structural changes to genes (mutations) located on chromosomes may affect proteins and may result in harmful, beneficial, or neutral effects to the structure and function of the organism.
Crosscutting Concepts—Structure and Function
Complex and microscopic structures and systems can be visualized, modeled, and used to describe how their function depends on the shapes, composition, and relationships among its parts, therefore complex natural and designed structures/systems can be analyzed to determine how they function. (MS-LS3-1)
Common Core State Standards Connections
Mathematics 6.SP.B.4: Summarize numerical data sets in relation to their context (MS-LS1-4), (MS-LS1-5)