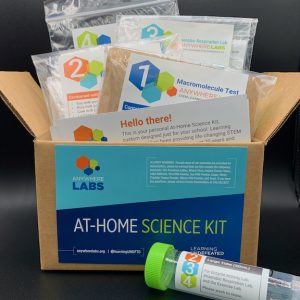 This week, Learning Undefeated announced a new partnership with Prince George's County (Maryland) Public Schools, which brings at-home science kits to more than 2,000 high school biology students at Flowers High School, Oxon Hill HS, DuVall HS, and Roosevelt HS. The kits were custom-designed by Learning Undefeated's STEM educators to allow students to complete hands-on laboratory investigations at home. Each kit contains enough supplies for students to conduct multiple trials of four independent laboratory investigations.
"We are beyond excited to help teachers offer laboratory components to supplement their digital classrooms," explains Jennifer Colvin, VP of Education at Learning Undefeated. "Doing at-home laboratory investigations allow for hands-on, practical exposure to subject matter through in-depth observation, experimentation, and practice. This new program will allow students to safely and effectively experience interactive laboratory investigations in conjunction with their online classes."
The four experiments inside every kit are tied to the work students are already doing virtually in their science classes, on topics ranging from macromolecules to how cells convert energy. In the macromolecule test, students will investigate unknown food substances to identify the presence of starch or lipids. They will also identify sugar types in milk samples from cow's milk and milk alternatives as they analyze enzyme activity. Students will also perform an anaerobic respiration activity to understand how sugar concentration affects carbon dioxide production, and compare carbon dioxide output at both rest and after exercise. The kits also come with an At-Home Science mobile phone app, which includes video tutorials of each activity along with other student-focused video content.
"Thank you for providing the biology kits to students at DuVal, Flowers, Oxon Hill and Roosevelt. What a game changer!! This addition will enhance our distance learning and provide the students with experiences that they cannot get from a computer."

Felicia J. Martin Latief, Ed.D., STEM Instructional Supervisor for Prince George's County Public Schools (PGCPS)
In addition to the At-Home Science Kits, Learning Undefeated has been working with Karen Shelton, Science and Technology Internship Program Coordinator for Flowers HS, to provide science and technology student interns with at least two weeks of laboratory experiences and investigations onboard the MdBioLab mobile laboratory later this spring. The MdBioLab is a 45' tractor trailer with a laboratory inside; the custom-built laboratory has its' own power, water, HVAC as well as professional-gauge laboratory equipment and supplies.
Learning Undefeated brings mobile laboratories to schools across Maryland each year to create and provide opportunities for teachers to engage students in new ways and introduce them to the high paying STEM careers available to them after high school. Students enrolled in the Science and Technology Internship Program will be able to perform their experiments onboard the MdBioLab as a part of their internship, gaining first-hand experience with research-grade laboratory equipment. After Flowers HS, MdBioLab will also spend two weeks each at Oxon Hill HS, DuVall HS and Roosevelt HS.
The science kits will be delivered to Prince George's students beginning October 28. If the pilot program with PGCPS is successful, the organization plans to roll out At-Home Science Kits to a wider audience later this school year. Learning Undefeated has a longstanding commitment to Maryland schools, providing over 20,000 students each year with safe and interactive laboratory investigation and experiential learning experiences. Nearly 85,000 Prince George's County Public School students have taken classes onboard Learning Undefeated's mobile laboratories including the MXLab, Drop Anywhere Labs, and MdBioLab, as well as participating in special programs like our ATLAS College & Career Readiness symposiums and STEM Leadership Experience.
Learning Undefeated is deeply grateful to longtime partner AstraZeneca for supporting the At-Home Science Kits and many other STEM education programs. Learning Undefeated is committed to bringing accessible interactive STEM education tools to students, teachers and parents. Throughout the COVID-19 pandemic, the organization has been creating free new programs to accommodate for new learning environments, including,
Anywhere Labs digital learning units boast a comprehensive index of standards-aligned, turnkey digital lesson bundles ready to be integrated into online classrooms. Topics include biology, chemistry, engineering, health, and environmental science.
At Home Science video library, with over thirty short tutorials on investigations students can do at home with everyday materials.
Generation Health, a dynamic middle school program that aims to make science personal through a focus on healthy living messaging. Digital resources include a virtual field trip inside AstraZeneca's R&D laboratories, and Escape the Pandemic, an escape-room style activity designed to help students understand how viruses spread