This year, our organization was the recipient of four awards, ranging from regional recognition for our work in South Texas to international awards based on thousands of educator votes. Read more about each recognition below.
Best of STEM Social Impact Award: Promoting Diversity & Equity Inclusion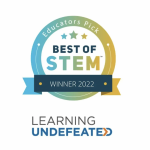 The Educators Pick Best of STEM awards celebrates tools that engage critical thinking, and is the only awards program created for educators and judged by a panel of STEM educators. Based on expert judge interviews and votes from over 250,000 educators across the U.S. and Europe, Learning Undefeated's Drop Anywhere Lab was chosen for the 2022 Social Impact Award: Promoting Diversity and Equity Inclusion category. The award was presented at the National Science Teaching Association conference in Chicago. Said Linda Johnson-McClinton, Educator Judge, Educators Pick Best of STEM 2022, "Learning Undefeated focuses on providing STEM opportunities for marginalized groups, fostering STEM identities, and developing the mindset of a learner within the process. Learning Undefeated is a fully mobile experience, allowing high-quality learning even in the most remote areas."
Drop Anywhere Lab Honored as an EdTech "COOL TOOL" finalist
For the first time, Learning Undefeated's Drop Anywhere Lab was chosen as a finalist in the EdTech Cool Tools STEM Solutions category. This annual program is focused on education technology, recognizing outstanding contributions in transforming education through technology to enrich the lives of learners everywhere. The program honors cool tools, inspiring leaders and innovative trendsetters across the K-16 space plus skills and workforce sectors.
Reimagine Education Awards: Access, Diversity and Inclusion
Learning Undefeated was shortlisted for the Reimagine Education awards, the a prestigious international awards program for innovative pedagogies. The Access, Diversity and Inclusion category recognizes innovators who, driven by a keen sense of social responsibility, are seeking to improve access to higher education for under-served, underprivileged students.
STEER Neighborhood Impression Award
And, Learning Undefeated's partnership with the Port of Corpus Christi was honored by the South Texas Energy and Economic Roundtable (STEER). The Neighborhood Impression award recognized this signature career and education outreach program for the Coastal Bend Region. STEER coordinates communication and public advocacy surrounding the oil and natural gas industry in South Texas and serves as the bridge connecting industry and communities throughout the region.