On December 5, Jane Shaab, Executive Director of the University of Maryland BioPark, welcomed over 40 Baltimore City high school students to the biomedical research park located at the heart of the UMB campus in Baltimore. The BioPark facility hosts a community of life science companies and academic research centers that work to produce a variety of products, services, and scientific research. During the after school event, students from Frederick Douglass High School and Patterson High School interacted with STEM professionals, researchers and students from the BioPark.
Through talks with young scientists and student researchers from the University of Maryland and Baltimore City Community College, the IGNITE participants got a glimpse of some of the opportunities that are available to them in their own neighborhood. The event came to a close with an energetic and inspirational talk from Dr. Jayfus Doswell, President and CEO of Juxtopia, LLC, who discussed urban entrepreneurship and encouraged students to recognize the importance of discipline in reaching personal and professional goals.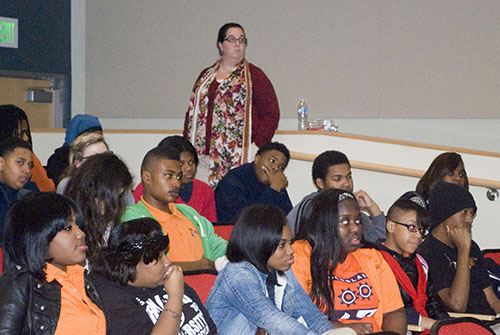 This visit to UMD BioPark was part of MdBio Foundation's powerful new partnership with Baltimore City Public Schools called IGNITE, a program designed to increase student awareness of and interest in STEM related careers.  The partnership fosters a yearlong, collaborative career exploration learning community among high school students, their science teachers, and bioscience industry partners.  The program also aims to provide teachers with relevant classroom resources to meet the recent state-mandated Common Core State Standards (CCSS) and Next Generation Science Standards (NGSS).
These relationships provide students a unique opportunity to observe firsthand the types of careers available if they choose a STEM-related educational path. IGNITE addresses the national need for more STEM-based educational programs by providing students with tools and experiences that will prepare them for professional careers.  Furthermore, this program supports Maryland's growing need for a workforce that both meets the needs of existing employers and attracts new businesses.