Dear teachers –
For nearly 20 years, Learning Undefeated has been bringing hands-on STEM education to students with our mobile laboratory program. Because we love the work we do, it has been an incredibly difficult decision to suspend mobile laboratory programming in Maryland until further notice. Like you, we are truly disappointed that we won't be seeing Maryland students in person this fall. Our Texas Mobile STEM Lab is scheduled to visit schools beginning in September, operating under a rigorous COVID-19 safety plan.
Our team has been hard at work this summer figuring out how we can bring engaging STEM learning to your students at home. We have designed a diverse set of digital learning resources that you can use in your own digital classroom, as well as independent assignment ideas for students. And, just like our mobile laboratory program, all of Learning Undefeated's digital resources are free to teachers!
STEM Learning Goes Digital: Educator Professional Development
For a short-and-sweet overview of our Fall 2020 programming, join a virtual PD session on August 18 or 19. In just 30 minutes, our science educators will present a wide variety of options for your students this fall including standards-aligned online lesson bundles for grades 6-12, virtual guest speaker program, STEM rockstars video library, laboratory equipment loaner program, one-on-one educator training, at-home science experiment ideas, and live laboratory demonstrations!
---
STEM Learning Goes Digital: Learning Undefeated Resources for the 20/21 School Year
August 18 @ 1 PM Eastern Time and August 19 @ 11 AM Eastern Time
If you can't make one of these times, our education team would absolutely love to do an individual PD session for your school or school district. Email Kristin Diamantides to schedule!
---
Anywhere Labs – distance learning lesson bundles | visit page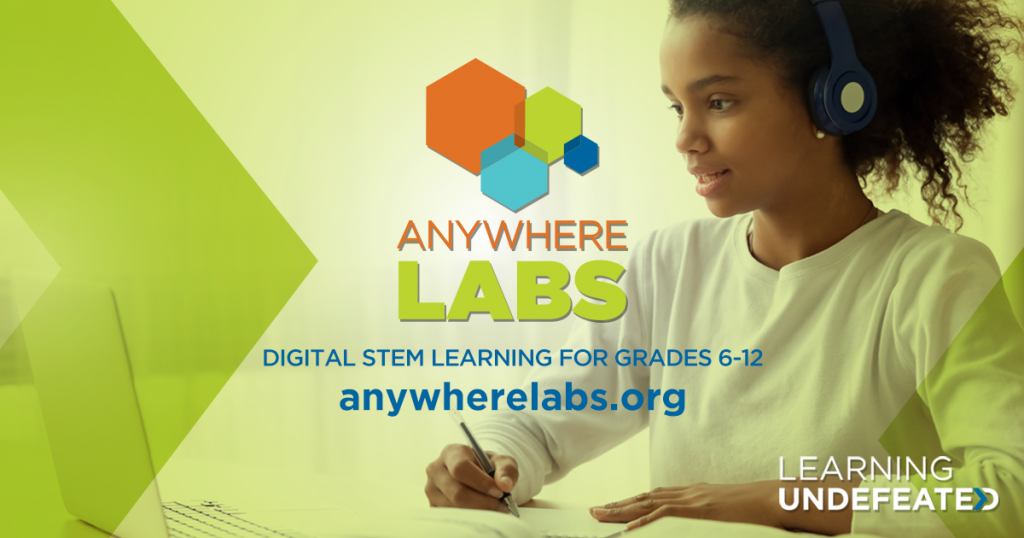 Our distance learning program provides turnkey experiences for teachers to use in their own digital classrooms. Program components include real-time, mobile-friendly access to standards-aligned laboratory investigations for grades 6-12, multimedia STEM resources, collaborative assignment tools, and interactive assessments. Topics include biology, chemistry, earth science, engineering, environmental science, genetics, health, space and the solar system.
At-Home Science Experiments | visit page
30+ short video experiments designed for K-12 students to do at home, using household materials. Also great assignment ideas for teachers for students' independent instruction days, plus resources and podcasts for your students.
Guest Speakers in your Digital Classroom
Learning Undefeated's science educators are available to participate in your digital classroom as a guest speaker, perform laboratory demos, or to answer student questions over videochat. Our team has backgrounds in biology, chemistry, environmental science, neuroscience, genomics, and more! Email us at education@learningundefeated.org to request a guest speaker. We are also compiling a list of STEM professionals available for guest speakers; watch our website for more information coming early fall.
Loaner Laboratory Equipment
We will be offering our laboratory-grade equipment along with training for teachers who wish to complete our activities in their classrooms. Watch our website and social media for more information about this program coming in August.
STEM Rockstars Video Series | visit page
Video profiles and student resources represent diverse backgrounds and journeys, allowing students to identify relatable role models in a wide variety of STEM careers.
Distance Learning Support
Do you have a specific topic that you're struggling to convert to an online learning format? Our education team is here for you! Email us at education@learningundefeated.org and well do our best to help and/or connect you with other resources.
This list is not exhaustive – we truly want to support you in this unusual school year. If there is any other way that we can help, please do not hesitate to contact me or any member of our education team.
We look forward to seeing you onboard one of our mobile laboratories again soon.
Jennifer Colvin
VP of Education