Meet your 2021 Maryland BioGENEius Challenge winners Junzhi Xie, Shisui Torii, and Aditi Gubba. These three students have persevered through a unique school year to make award-winning research projects that showcase their skills in STEM.
Junzhi Xie is a student at Richard Montgomery High School who centered his project around wastewater treatment, focusing on microplastics. He's been working in plastic advocacy areas for most of his life, citing his interest in environmental studies as the inspiration for using plants to remove microplastics.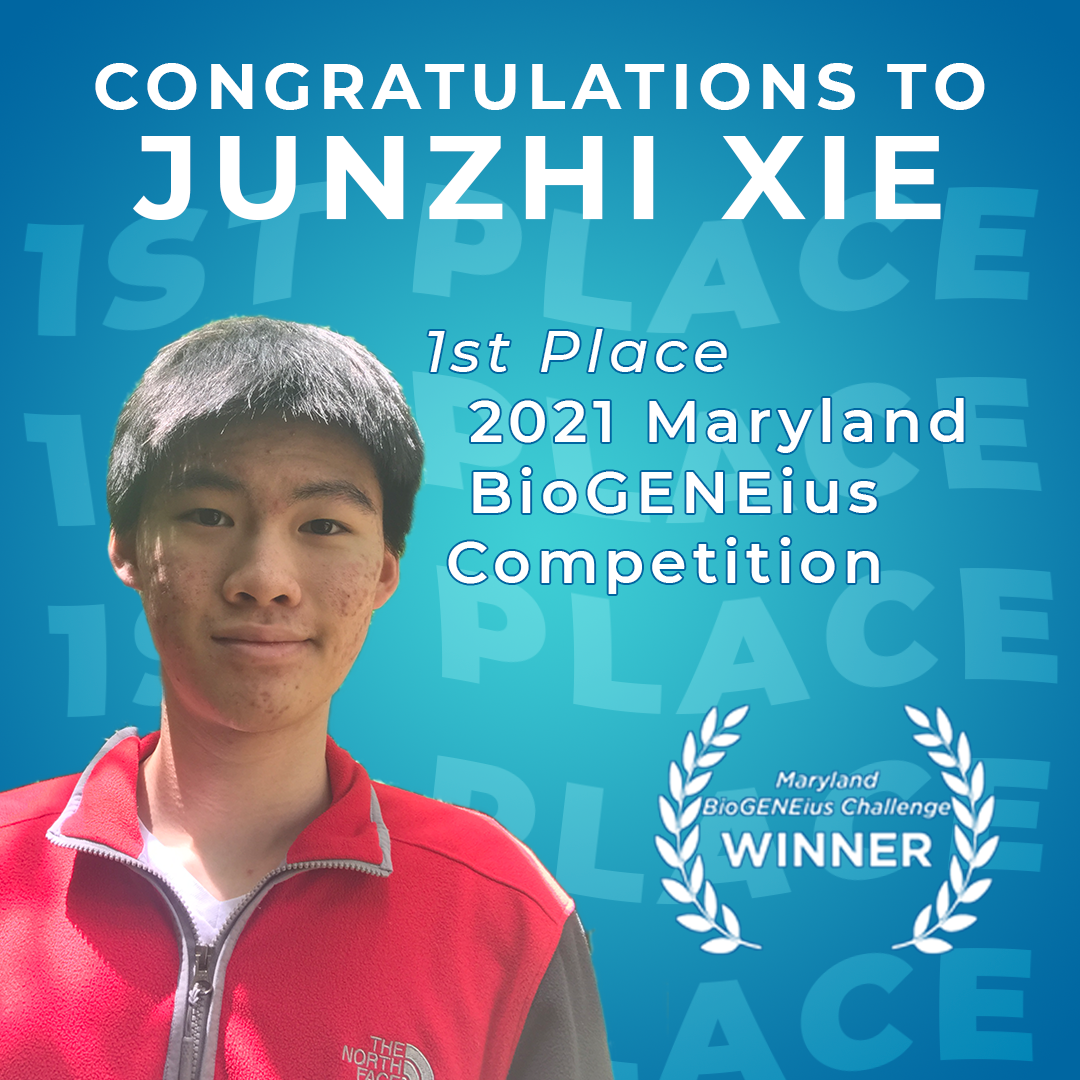 "I got into the community at a very young age. I watched a lot of nature documentaries as a kid, so that's how I got interested in environmental research," Xie explains. "I became very involved in science research and environmental studies, I did science Olympiad and got involved in the general STEM community in high school. I decided to try research because it was a way to explore my interests individually. It's a liberating feeling to follow your passion and do the sort of research that you want to do."
He credits research for inspiring him and allowing him to pursue his passion for science in a new way. Xie is looking forward to continuing his STEM career but isn't set on environmental studies just yet. "I sort of fell into environmental research because I liked it, but I haven't explored biochemistry or medicine yet. I'm not ready to definitively choose one path."
Shisui Torii is a sophomore at Bethesda Chevy-Chase High School whose project centered around inflammatory bowel disease (IBD). Torii studied mice and engineered his experiment around RNA, collecting it from the mice's feces and conducting RNA sequencing.
"I've grown up in a family that's involved in STEM, because both of my parents are neuroscientists," Torii describes. "I'm looking to study engineering in college, either biomedical or mechanical, so this experience of research and experimenting helps with that."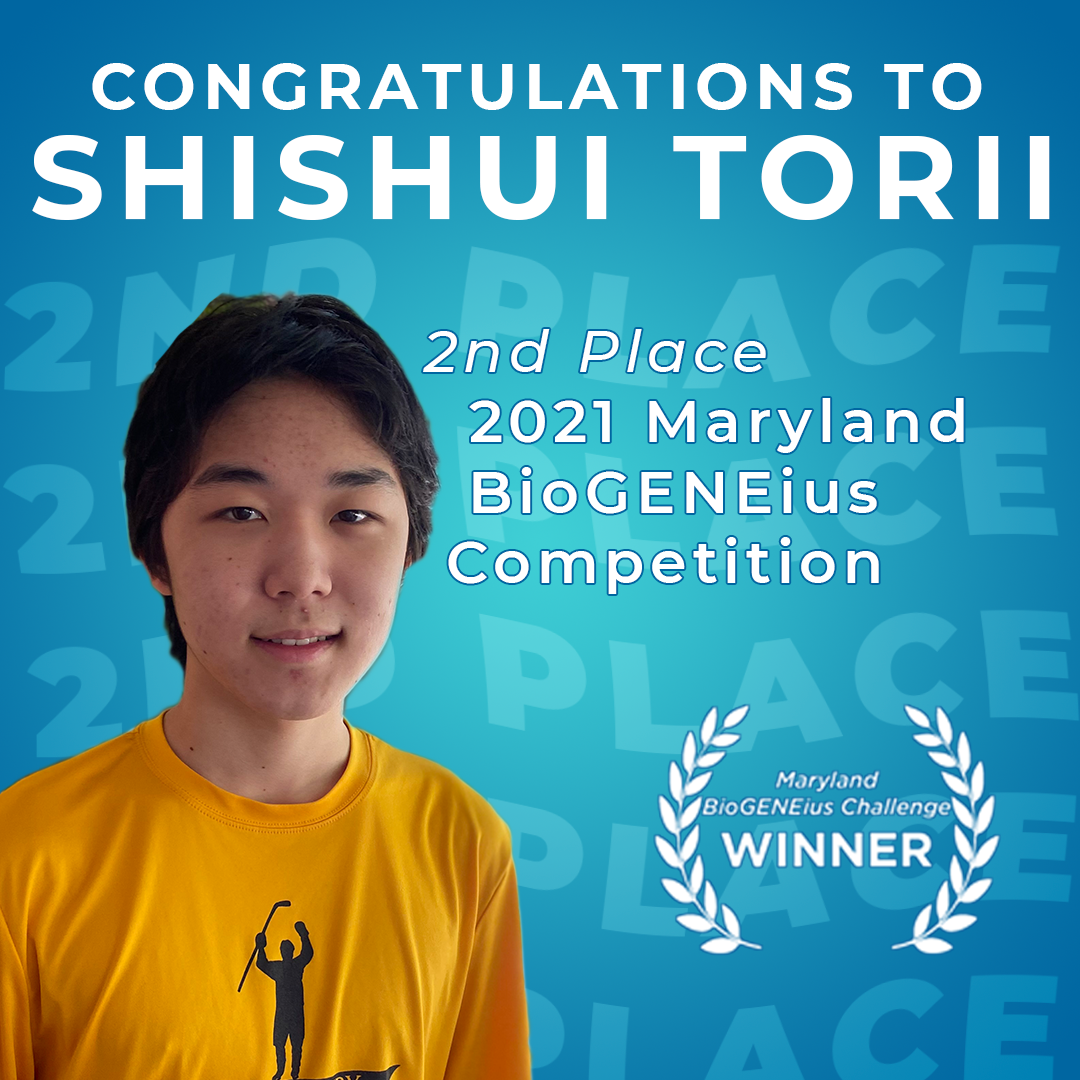 Torii hopes that he'll be able to continue researching the subject of IBD, looking one day to be able to test the effectiveness of this treatment on humans. Outside of STEM, he's spent the past seven years cultivating an impressive resume of extracurriculars including seven years of ice hockey and French horn.
He advises young students looking to get involved in STEM, "Right now, even in these hard times during the pandemic, the STEM field has been able to overcome. My advice would be to keep up your motivation even in these hard situations."
Aditi Gubba is a student at Poolesville High School enrolled in the Science, Math, and Computer Science (SMCS) magnet program. Her project focuses on arthritis researching a patch that could slow degradation; Gubba got the idea from her grandmother and best friend who are both diagnosed with the condition. She credits her support system for helping her get to this point, including her parents, teachers, and friends. She cites Mr. Lee, the head of the SMCS program and Mr. Gordon, her math teacher, specifically.
"The teachers [at Poolesville] have been extremely motivating and helpful. I struggled in math a lot last year, and Mr. Gordon would always talk to me for a while making sure I knew that I was good enough and able to do the work," Aditi explained.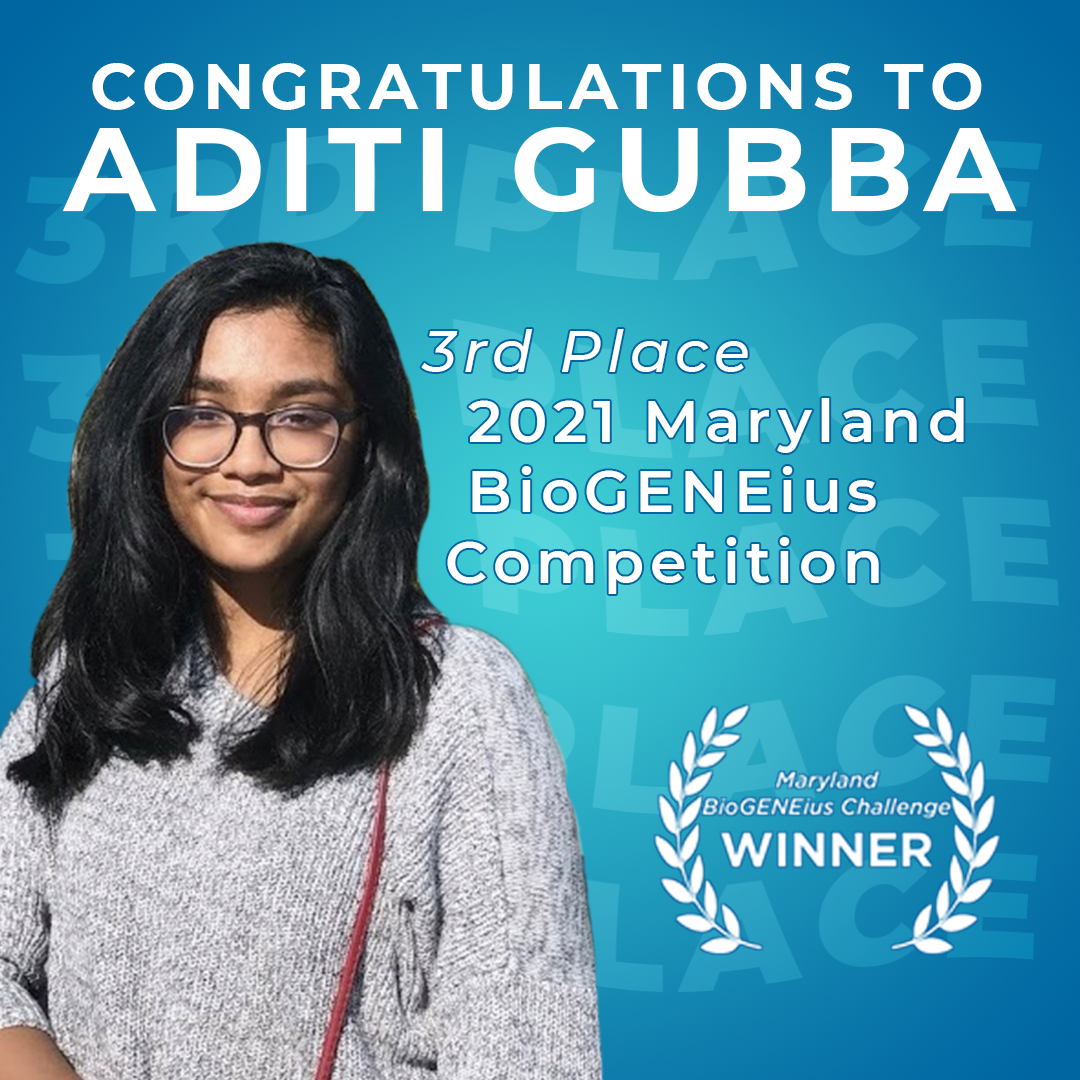 When discussing what's driven her to this point of success and overcoming obstacles like imposter syndrome and a pandemic, Aditi has one answer: passion.
"I think there's no greater drive than your own motivation to do something," she described, "I've always been the type of person that, despite external motivators and pressures, I won't do something well unless I really want to do it. It's just my inner passion to continue doing science that's just kept me going."