Students at Navasota's High Point Elementary experienced how science, technology, engineering and math can be applied to the real world with a special visit recently from the Texas Mobile STEM Lab.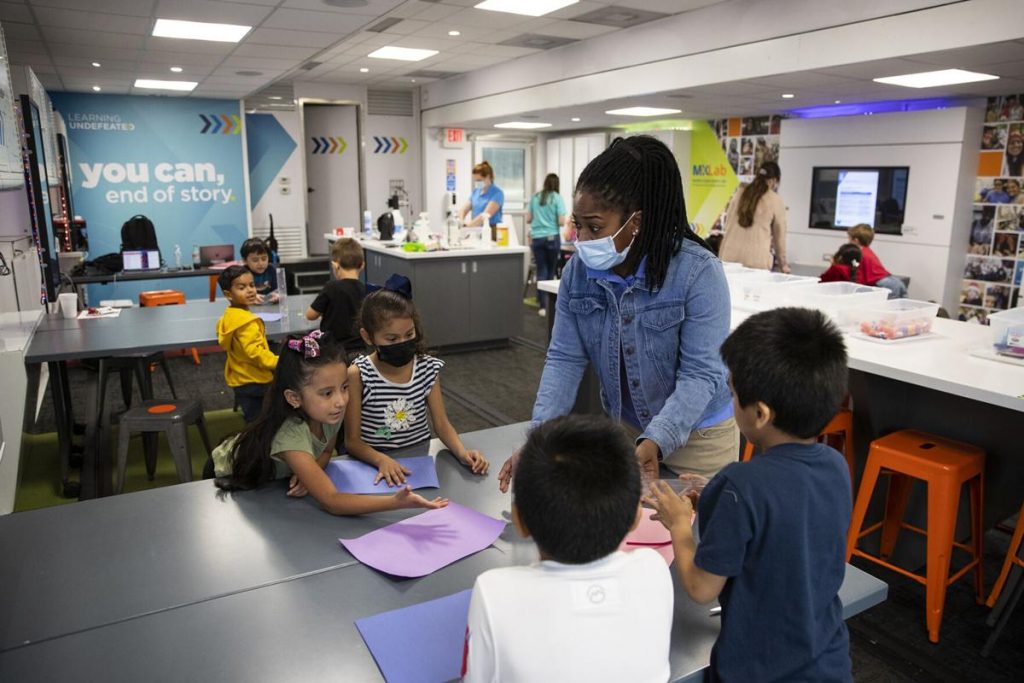 Out of hundreds of applicants, High Point special education resource teacher Robyn Allphin Thomas' application was one of 30 selected in the state.
"When I got the email saying that we were selected, we were very surprised," she said. "We're just glad to have this here for the kids, especially with COVID and everything going on and limitations on field trips. This was a way to bring in an engaging activity that connects to real-life experiences and gives them an opportunity to see how that learning really relates to the real world."
The custom expandable trailer that houses Learning Undefeated's Mobile eXploration Lab was at the school Wednesday through Friday to allow students from kindergarten through fifth grade to see how science, technology, engineering and math (STEM) can all be applied to their lives.
Funded by the Texas Education Agency, the program is free to school districts and targets districts the TEA identifies as rural, Learning Undefeated education coordinator Katie Askelson said.
Rural schools, she said, do not have the same opportunities or access to experiences unlike districts in or closer to bigger cities. It is exciting, Askelson said, to help students think about different types of careers they might not have considered.
Stephanie Ingram, assistant principal at High Point, said parents were thrilled as soon as they found out their students would get the opportunity to visit the mobile lab.
"Our school's rural; we have a lot of kids that are rural. They don't get opportunities to go far outside of Grimes County, and so this gives them an opportunity to experience things that they wouldn't necessarily get to experience otherwise," Ingram said.
Among the topics featured in the program, students at High Point learned about ecosystems, structural design – using the stories of "The Three Little Pigs" and "Jack and the Beanstalk" as inspiration – and circuits.
The youngest students were tasked with creating a beanstalk for Jack and a house for the three pigs, testing how well they could stand to wind and other environmental factors.
Desurae Matthews, Learning Undefeated educational program lead, said the students learn about the story and the situation and then take that information to develop a plan to complete their challenge, decide how to execute that design and test it. Then, they have the opportunity to try again.
"It's exciting for them to see the science and see the engineering and the math being applied to something because so often you're just doing problems off a worksheet," Matthews said, saying that practice of using a worksheet can lead students to question when they would ever need the information.
High Point first-grade teacher Joshua Aguilar said students had fun when their homes – made of construction paper or wooden craft sticks – were put to the test and the facilitators tried to blow down their constructions.
"I feel like it's one of those rare occasions when they get to do something with science," he said. "That's something that they really enjoy."
He also saw the students take pride in what they had built, especially if it withstood the wind.
"It was really neat to see them working together to create something," Aguilar said. "I feel like that's something that in science they don't get a lot of opportunity to do, and today, they got to experience that."
First graders Ramon Martinez and Susie Pate both said their favorite part was creating homes, both of which fell the first time.
Pate, who said she is interested in all types of science, said she learned that working together as a team is better.
There is a push in Texas and throughout the United States, Aguilar said, to use hands-on activities to encourage science and STEM education and to do so at an earlier age.
"I feel like starting them off young, especially at first grade, kindergarten level is essential, so they could have those skills as they go throughout their schooling, and hopefully, will lead into going to college," he said. "I feel like it's a good opportunity that could project or have a major difference in their life, and especially in the occasion they do go on to pursue a higher education as well."
Matthews said it is rewarding to help students experience STEM in a hands-on way and also learn life skills, such as problem solving and budgeting, while completing the assigned challenge.
Thomas said she wants the experience to help establish a love for science and STEM in the students that makes them want to continue learning about it for the rest of their lives.
"My biggest hope is that it inspires some of them to learn about different subjects and different employments that they may want to go into," she said. "I'm hoping one day we'll have an engineer that looks back and is like, 'I was an engineer because the STEM lab came to our school.' That's what I really hope for them, and, of course, that they had fun while doing it."