Learning Undefeated brings lessons to students in rural and underserved school districts
By Joanne Bloomstein | Diversity in Action [March 202] read it >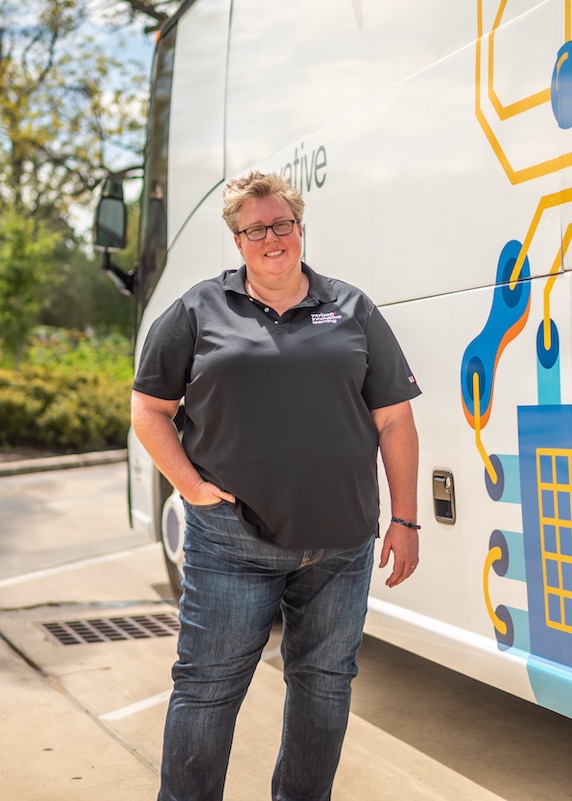 Since 1997 — and throughout a global pandemic — Learning Undefeated has driven specially outfitted buses, tractor trailers and shipping containers to school parking lots in 18 states including Maryland, Texas and Louisiana to give students immersive science and technology experiences and expose them to STEM careers they otherwise may never have encountered. The hope is that more students from rural and/or underserved communities will pursue STEM educations and ultimately STEM careers.
A nonprofit organization based in Maryland, Learning Undefeated strives to "provide equitable access to education by inspiring students to imagine their own success. We do that through a diverse set of programs including our mobile STEM laboratories and digital learning resources," explains Jennifer Colvin, vice president of education.
In order to stay operational during a pandemic, the mobile labs have had to adjust. "We've had to modify how many students are allowed on board at a time, we've increased ventilation and HVAC filtering and are also using social distancing and masking to keep everyone as safe as we can. We also don't visit communities with uncontrolled viral spread. … We have a schedule, but if you have uncontrolled spread, we will reschedule you at a different time," she adds.
Each Learning Undefeated laboratory vehicle offers approximately one week of instruction per visit, with the instructional model dependent on the vehicle. Shipping containers have been repurposed as Drop Anywhere Labs — of which they operate three — with projection on three walls and an 86-inch Android tablet on one. Drop Anywhere Labs were first launched in 2019 as part of a resiliency education program developed in response to the devastation caused by Hurricane Harvey in the Houston/Coastal Bend region of Texas.
"That's actually how we originally started to work in Texas," says Colvin of the program that was initially focused on the mid-Atlantic states. "We wanted to help children reengage with school and create a sense of normalcy. … It's easy to get portable classrooms but nobody had portable laboratories. … The Rebuild Texas Fund challenged us to develop a laboratory that could specifically be deployed to disaster-impacted communities."
The labs currently stationed in Texas operate through a partnership with the Texas Education Agency (TEA) to help model STEM curriculum for kindergarten through eighth grade. "The mobile laboratories give students access to these great immersive learning experiences without leaving their school parking lot, so it fits really well for the rural school districts in Texas," explains Colvin. In fact, the TEA grant specifies that the labs are to be sent to rural as well as underserved districts.
Learning Undefeated's Explorer Lab is a bus repurposed into a spaceship on a mission to Mars. "It's amazing, and was recently gifted to us by Verizon," says Colvin. "The entire passenger side is your front window, and the entire driver's side is your rear window. Using Hollywood-style special effects and sound, the students take five minutes to go through space to Mars, and when they get there, we use a video game to engage them in the engineering and design process."
Students engage in such problem-solving exercises as changing tires on their Mars vehicle to go over rocky terrain or determining and then installing the best apparatus to retrieve evidence. "It's very exciting," exclaims Colvin. "I love taking people to Mars!"
Mobile Laboratories
Large tractor trailers comprise the third type of mobile STEM education facility in the Learning Undefeated fleet: the MdBioLab and the MXLab are outfitted with the same countertops and cabinets found in real biopharmaceutical labs, complete with chemical-resistant surfaces and hospital-grade carpet so that students can experience what an actual STEM career, such as working in biotechnology, is like.
In their efforts to serve communities in trauma, in March 2020 Learning Undefeated sent one lab to Puerto Rico to serve schools impacted by both a major earthquake and the COVID-19 pandemic, but ultimately the schools were not able to utilize the lab. "Unfortunately, we never got to serve a single student in Puerto Rico due to COVID," says Colvin. "We were very disappointed. … but I wouldn't be surprised if we try to go back in the next year or two," she adds.
The larger trailer, the MXLab, is a double expandable trailer. Measuring 53 feet long and 8 feet wide, each side also comes out an additional 7 feet, offering almost 1,000 square feet of learning space. As a science and technology teaching lab, the trailer allows students to work individually or in small groups studying everything from engineering to cybersecurity and computer science, to chemistry, physics, biology and environmental science.
After Texas, Learning Undefeated expanded to Louisiana in 2019 and also currently works in Maryland, where they spend a majority of their time in Baltimore. "[Learning Undefeated is] looking to target a high number of minorities to motivate and inspire them and to expose them to STEM professionals from a wide range of backgrounds," says Colvin.
Volunteers are a key component of the program. "A lot of times I will bring extra people in. For example, we'll organize STEM leadership events in which we'll bring together a bunch of female professionals at the end of the school day and we'll make it available to female students, and they'll get together and create a really nice mentorship experience."
Learning Undefeated has recently created at-home science kits, and in December 2020, delivered them to five Delaware high schools, further expanding its reach. Future plans include taking the mobile laboratories to more districts. "We would work just about anywhere if somebody wanted us to come," says Colvin. "For us, it's about finding a strong local partner who wants to build a STEM education ecosystem where they're at, to bring those STEM careers to life for students."
As part of the national Mobile Laboratory Coalition, Learning Undefeated works with similar organizations to bring STEM to as many school districts as possible. "There are more than 65 mobile laboratory programs just in the U.S. I don't really think there's competition in education since there's so many students and so much need. We work collectively together."
Summer provides more opportunities for STEM learning, with Learning Undefeated camps providing up to 30 hours of STEM instruction per student, again reaching populations typically underrepresented in STEM careers. "Past partners have included the Housing Commission from Montgomery County [Maryland] and many local STEM companies. We are very purposeful about who we choose [as partners]. We work with people who are already servicing the students who we want to work with," explains Colvin.
Another organizational priority is creating a "racial equity perspective in our programs and organization that will then help drive race equity outside of our organization among our partners, collaborators, and the communities we serve." Colvin elaborates that they are "moving beyond just actively promoting social changes and equal rights and treating people with respect to considering ways to change our programmatic and organizational policies so that race is no longer a source of disparity among the communities we serve."
Creating racial equity is an organizational goal Colvin is as passionate about as she is about empowering STEM students and professionals to reach their personal goals. "Find someone who can provide positive reinforcement and help build confidence," she advises. "And don't get stuck thinking there's only one way to go about things, because I guarantee you that in STEM there are many different ways."