By Alex Keown for BioBuzz read it >
Learning Undefeated, a Maryland-based nonprofit organization focused on STEM education, is partnering with pharma giant AstraZeneca to expand science education across Maryland. The two recently showcased the new Breakout Box: Body Systems Mission at Gaithersburg Middle School on April 20.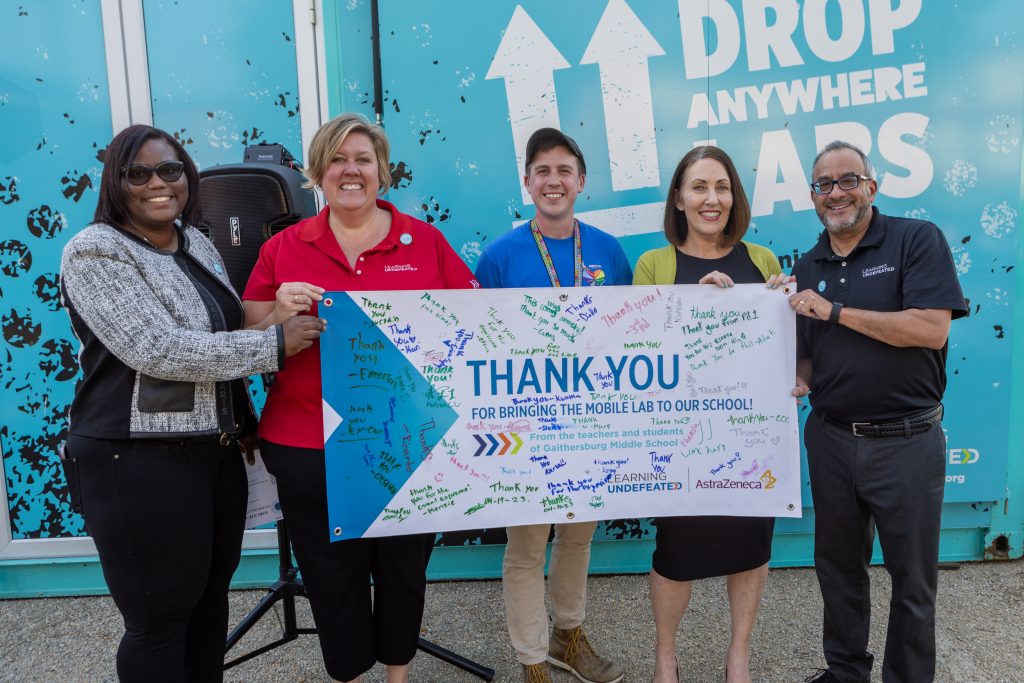 The event is part of a weeklong school visit in which more than 500 Gaithersburg Middle School students will experience the new Breakout Box: Body Systems Mission, an immersive learning experience designed to meet Next Generation Science Standards for 7th grade life sciences.
The middle school event serves as the kickoff of a yearlong partnership to carry Learning Undefeated's mobile STEM (Science, Technology, Engineering and Math) lab program to schools across the Old Line State, Janeé Pelletier, executive vice president of communications and government affairs at Learning Undefeated, told BioBuzz.
During the April 20 event at Gaithersburg Middle School, representatives from both Learning Undefeated and AstraZeneca demonstrated the capabilities of the mobile STEM lab through hands-on activities. The representatives from both organizations also shared life sciences career information with the students, including not only opportunities that require an advanced degree, but also those that can be achieved with a high school diploma and some hands-on training.
"There are a lot of pathways to opportunities in the sciences in Maryland," Pelletier said.
Learning Undefeated's Breakout Box: Body Systems Mission is an immersive laboratory set up inside a traveling shipping container. Using game-based experimentation, the middle school students can enter the lab and learn to analyze and interpret data in a cardiovascular simulation. Additionally, the youths can select food, exercise, and insulin options to manipulate blood glucose concentration in diabetic and non-diabetic patients. This provides the middle schoolers with hands-on experience in computational thinking and conducting science.
Pelletier said the event helps students in Montgomery and Baltimore counties build a STEM identity, so they can see a future in the sciences. The mobile lab, along with the AstraZeneca volunteers, provided the youths with information about future workforce opportunities available to them after high school or college.
At the Gaithersburg Middle School event, Pelletier said students had an opportunity to see the kind of science happening each day at the dozens of life sciences companies based in the area.
"We're in a hot spot for the life sciences so it's likely that many of these students will know someone who is employed in the life sciences. This will give them an idea of what's being done and what can be done," she said.
Introducing life sciences career opportunities to middle school students is an idea regularly discussed by workforce development leaders. Previously, members of the Workforce Development Task Force commissioned by Maryland's Life Sciences Advisory Board and the Maryland Tech Council have suggested a similar approach.
"There's so much opportunity with science that young people are just not aware," Joe Sanchez, a co-chair of the task force and former director of North America R&D Science Engagement at AstraZeneca, said during a 2021 LSAB meeting.
The idea is to show budding students the various career path opportunities within the industry – from those scientific roles that require advanced degrees, to manufacturing and quality control positions that do not require as much formal education.
That's something the Breakout Box and the volunteers sharing their own stories can do with middle school students.
"This new Breakout Box experience draws inspiration from the innovative discoveries being made right here in Gaithersburg in fields like cancer research and diabetes. Through this collaboration with AstraZeneca, we will benefit thousands of students across the region by building their confidence in STEM subjects and empowering them with the knowledge of STEM careers for their future," Brian Gaines, chief executive officer of Learning Undefeated said in a statement.
Neelima Rao, vice president of human resources, oncology R&D and North America Country Lead at AstraZeneca, said the company is committed to making STEM accessible to all students.
"We know that quality, experiential STEM education is critical for students to feel comfortable pursuing their passions in science. Published reviews cite that by eighth grade, nearly 50% of all U.S. students lose interest or see STEM as irrelevant to their future, threatening the STEM leader pipeline of tomorrow," Rao said in a statement. "Through our partnership with Learning Undefeated we hope to inspire students to pursue careers in STEM that will develop solutions for tomorrow's challenges."