Chief Innovation Officer Jennifer Colvin and Custom-Built Breakout Box Technology Honored as Finalists in Prestigious Education Competition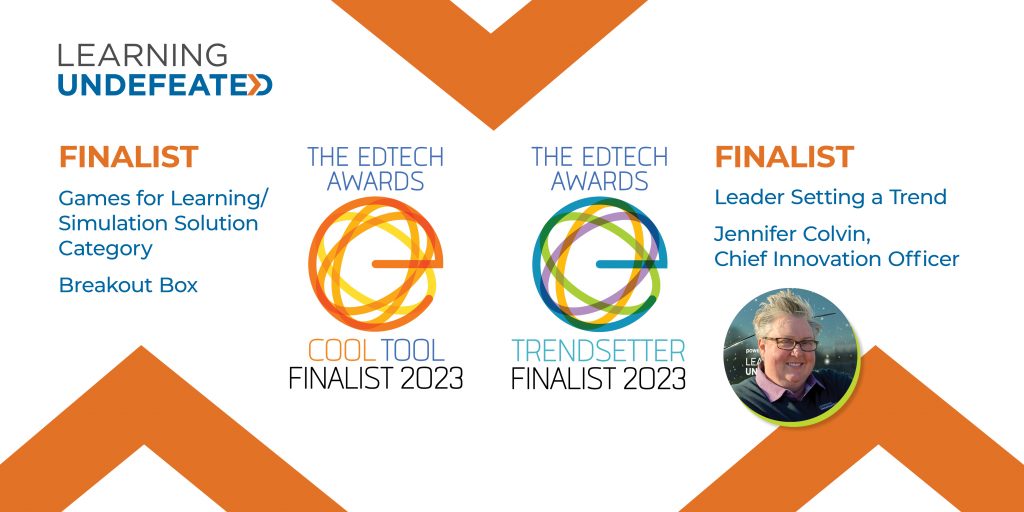 Finalists and winners for The EdTech Awards 2023 have been announced to a worldwide audience of educators, technologists, students, parents, and policymakers interested in building a better future for learners and leaders in the education and workforce sectors.
This year, nonprofit Learning Undefeated was honored as a finalist in two EdTech Awards categories. View the full list of this year's finalists and winners here.
Finalist: 2023 EdTech Cool Tool Awards, Learning Undefeated's Breakout Box, Games for Learning/Simulation Solution category
Finalist: 2023 EdTech Trendsetter Awards, Leader Setting a Trend, Jennifer Colvin, Chief Innovation Officer, Learning Undefeated
A thought leader in education innovation, Chief Innovation Officer Jennifer Colvin has built and launched eight mobile lab programs serving over 300,000 K-12 students. Colvin provides strategic direction of Learning Undefeated's education portfolio, which also includes game-based learning, distance and hybrid learning curricula, and disaster recovery/learning acceleration programs.
The Breakout Box: Body Systems Mission takes middle school students on an immersive adventure using computational thinking and the practices of science and engineering to crack a series of puzzles to restore lost data in the abandoned Drop Anywhere Lab. From the moment they step inside this custom-built 22-foot shipping container, students experiment with augmented reality, game-based learning, and touchscreen walls, building critical thinking, collaboration, and problem-solving skills in STEM. The organization's Drop Anywhere Lab was awarded several awards in 2022, including an EdTech Cool Tools finalist nod.
Celebrating its 13th year, the US-based EdTech Awards is the world's largest recognition program for education technology, recognizing the biggest names in edtech – and those who soon will be. The EdTech Awards recognize people—and the products they produce and lives they shape— with three main honors:
The EdTech Cool Tool Awards
The EdTech Leadership Awards, and
The EdTech Trendsetter Awards.
The EdTech Awards recognizes people for outstanding contributions in transforming education through technology to enrich the lives of learners everywhere. Featuring edtech's best and brightest, the annual program shines a spotlight on cool tools, inspiring leaders and innovative trendsetters across the K-12, Higher Education, and Skills and Workforce sectors.
The EdTech Awards were established in 2010 to recognize, acknowledge, and celebrate the most exceptional innovators, leaders, and trendsetters in education technology. This year's finalists and winners were narrowed from the larger field and judged based on various criteria, including pedagogical workability, efficacy and results, support, clarity, value and potential.
Further information about The EdTech Awards is available here. For more, see #EdTechAwards and follow @edtechdigest on Twitter.