Learning Undefeated's Emerging Leaders in Biotechnology program was created in 2021 to connect young women with biotechnology content and inspire them towards high-demand DOD careers. Through this rigorous, 10-session hybrid learning experience, students meet STEM professionals from a diverse set of backgrounds, learn techniques in biotechnology using professional laboratory equipment, build career readiness and networking skills, and develop friendships that will support their journey in STEM.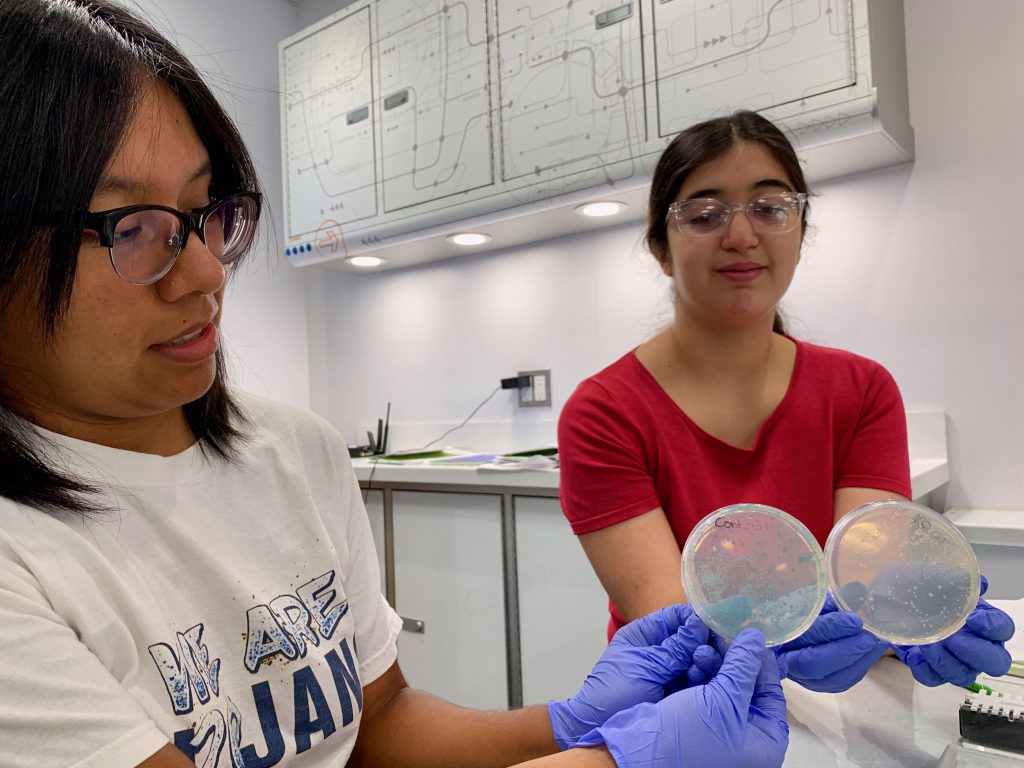 "When high school women get to make that connection with college women, they get to see a little snippet of themselves in the future, "said Gabriella Centeno, a rising sophomore majoring in biology at Montgomery College, who is serving as a mentor in the Emerging Leaders in Biotechnology program. "That not only inspires them, but it also empowers them to do the best that they can, take as many opportunities as they want, and enjoy their full right of whatever their self-discovery is."
The program centers around making meaningful connections for high school and college women by providing life-changing STEM career and educational opportunities. Built on a near-peer mentorship model, the program fosters meaningful connections between Black women, Latina women, Indigenous women, and women of color ages 14 to 22 by combining hands-on workshops that nurture skills, knowledge, and support to pursue careers in biotechnology plus career-focused sessions where students gain exposure to a wide range of military and biotechnology jobs.
Building Hands-on Biotechnology skills
The hybrid program model combines custom-designed At-Home Science Kits provided to each participant introduce students and mentors to common laboratory techniques, with advanced laboratory workshops taught in person onboard one of Learning Undefeated's mobile laboratories.
At-home kits provide students with a personal set of scientific equipment including micropipettes, tube racks, and microscopes, enabling them to conduct hands-on laboratory investigations through simulated biotechnology techniques including gel electrophoresis, ELISA, microscopy, bacteria culture, and column chromatography. Each lab technique is introduced with a discussion of relevance in DoD laboratories, to provide context for the different types of applications a simple technique can have.
Once students have completed initial concepts using the at-home kit, they are paired with a mentor to explore more advanced topics in a hands-on laboratory workshop series. High school and college women work together, guided by a Learning Undefeated educator, to learn about techniques used in modern biotechnology labs. Advanced laboratory experiences include:
Verifying Mendelian Genetics: Participants will use polymerase chain reaction (PCR) to analyze DNA from an F2 cross of the Brassica rapa plant to test genetic inheritance. Participants will also be introduced to statistical analysis of genetic data.
Synthetic Biology: Participants will learn about the new field of synthetic biology and its uses. They will use cell free systems to visualize the processes of transcription and translation using fluorescence.
Biomarkers: Participants will learn how fluorescence and other markers are used as tools to visualize biological processes. They will analyze enzyme function in different environments by changing pH, temperature, and other factors.
CRISPR: Participants will learn about the CRISPR system of genetic modification and how it is being used today to treat diseases like sickle cell anemia. Participants will perform a CRISPR experiment in E.coli bacteria and analyze DNA excision by monitoring LacZ expression as well as verification through PCR.
Genetically Modified Organisms: Participants will analyze common foods to test whether they contain any genetically modified organisms. The participants will independently run the experiments using the techniques they have learned through the experience.
Inspiring Students to Choose Biotechnology Careers
During virtual sessions, participants hear from female luminaries in the biotechnology fields, many of whom are creating new solutions for DOD and military service members, with a specific focus on highlighting the contributions of Black, Latina, and Indigenous women. For the pilot program, speakers have included health researchers developing cutting-edge vaccines and medical treatments from Moderna and AstraZeneca; an infectious disease expert from Walter Reed National Military Medical Center; neuroscience researchers from the Walter Reed Army Institute of Research; biotechnology scholars at the University of Maryland; leaders from the DOD STEM program, hiring managers and career coaches from Montgomery College and WR Grace, and more.
Speaker themes focus on unique challenges faced by women in STEM careers, and ways students can build their confidence to overcome barriers that typically discourage women. "I liked how [the speaker] talked about her honest struggles of being a woman in STEM. It really resonated with me when she mentioned how responding to negativity will affect us more personally," said one high school student. Said another, "The speaker validated a lot of my fears about imposter syndrome and joining a field dominated by men. I now feel like I can achieve anything even when I don't realize it in the moment."
The pilot Emerging Leaders in Biotechnology program includes 72 female participants, ages 14-22. Nearly 40 percent of the participants self-identify as African American or Black, 20 percent Hispanic or Latina, and 30 percent Asian. More than half of participants are currently (or will be) first generation college students, and many are considering med school, biology or engineering related fields of study.