With several months still to go in the 2021/22 school year, Learning Undefeated already has reached more than 3,000 Delaware middle and high school students with STEM learning experiences designed to showcase high-growth STEM jobs across the state. The organization has reached more than 4,500 Delaware students since 2018.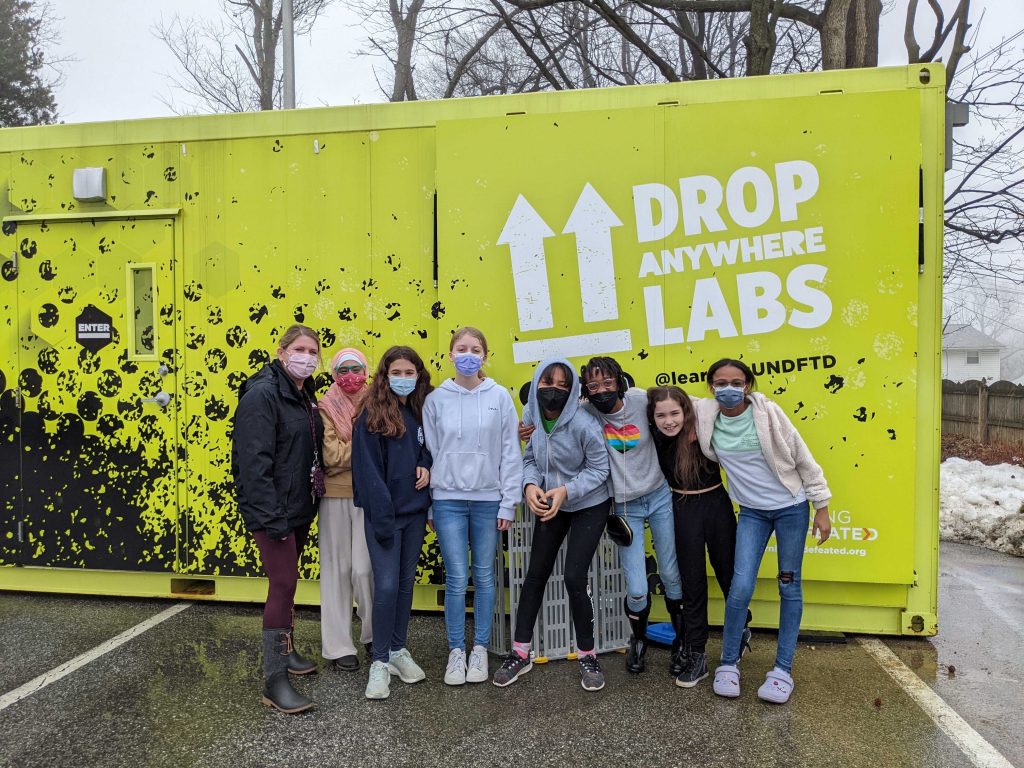 Thanks to a multifaceted education partnership with AstraZeneca launched in September 2021, Learning Undefeated's mobile STEM lab has been bringing cutting-edge STEM curriculum and techniques right to the parking lots of Wilmington-area schools. The program introduces Delaware students to in-demand STEM careers and groundbreaking discoveries being made right in their own backyard.
The partnership also includes a 40-hour, deep-impact Emerging Leaders in Biotechnology cohort focused specifically on Delaware biotech industry. This fast-paced, hybrid program introduces high school and college women to biotechnology jobs, in an all-female cohort environment. Students participate in hands-on laboratory experiences and meet female luminaries from across the spectrum of STEM careers
Drop Anywhere Lab [Mobile STEM Lab] Visits Wilmington-Area Schools
Learning Undefeated's Drop Anywhere Labs hit the road in October 2021, visiting middle and high schools across Wilmington for up to two weeks at a time. The two-part Drop Anywhere Lab student experience uses game-based learning to explore chemical and physical changes, and continues in the classroom with hands-on laboratory investigations.
"My students had a blast this week! They were talking all day about how they felt like a real scientists with their gloves and their chemical reactions. The oohs and the ahhs are what makes people love science and education! I cannot thank you enough for this opportunity for all of my students."

Jamie Grivas, 8th grade science teacher at George Read Middle School
The custom-built Drop Anywhere Lab combines game-based learning, touchscreen walls, and special effects to engage students in chemistry concepts. The learning then continues in the classroom through exploratory hands-on laboratory investigations. Learning Undefeated's "What's in a Change" activity, which uses dry ice to demonstrate physical and chemical changes, has been a class favorite.
To date, the mobile lab has visited AI DuPont Middle School, George Read Middle School, Talley Middle School, John Dickinson School, and the Bancroft School, who made this heartwarming video showcasing their students' experience onboard the mobile lab.
Teens Learn STEM Skills at The Warehouse, in Wilmington's Riverside Neighborhood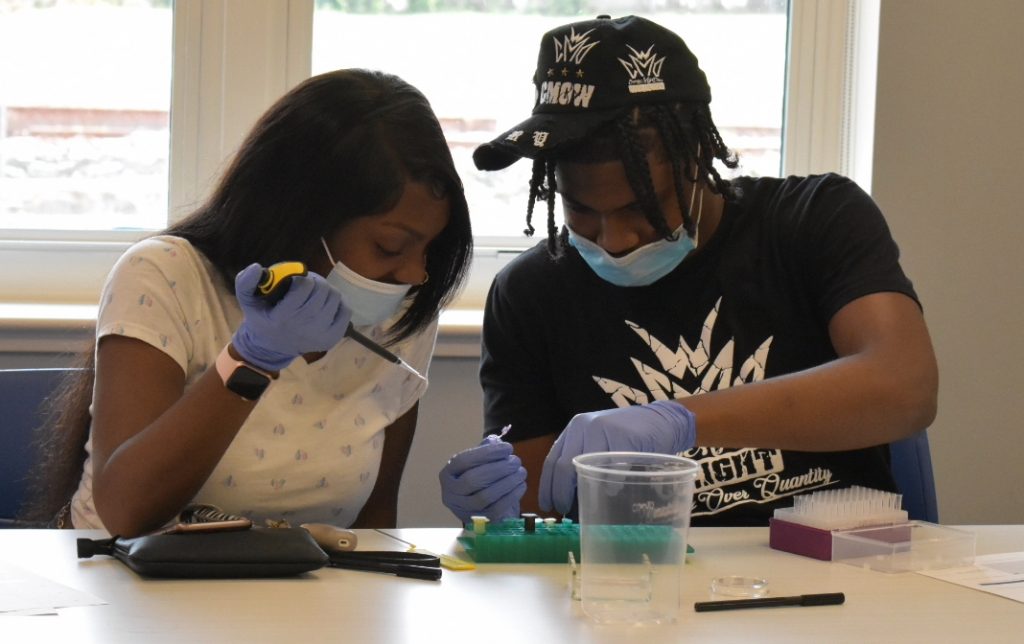 In the afterschool space, Learning Undefeated teamed up with The Warehouse – a vibrant resource center designed for teens by teens – to help local teenagers build the skills they need to be successful in the workforce. In fall 2021, Learning Undefeated began offering weekly afterschool STEM workshops on topics including biology, chemistry, and engineering.
Said Melody Phillips, The Warehouse's Director of Operations. "Our partnership with Learning Undefeated illustrates our ongoing commitment to bring the right tools, resources, and people to Wilmington's youth. This STEM program helps build the knowledge and skills teens need to thrive in our 21st-century economy. Putting professional-grade science equipment in teens' hands and connecting scientific investigations to local careers opens our youth's eyes to a whole new world of possibilities."
Each week, Learning Undefeated's educators team provide a new engineering activity that required participants to build an item out of different materials. Several activities included popsicle stick catapults, homemade bouncy balls, homemade bath bombs, and light-up cards. The two organizations will co-host a Community STEM Festival for Riverside neighborhood students in April 2022.
Emerging Leaders Program for Black & Latina Women Expands to Delaware
Together with AstraZeneca, Learning Undefeated will launch a Delaware cohort of the Emerging Leaders in Biotechnology program in April 2022. Emerging Leaders in STEM is an intensive 40-hour program to familiarize high school and college women to biotechnology jobs in an all-female cohort environment. The hybrid program model combines custom-designed At-Home Science Kits that present common laboratory techniques, followed by an in-person laboratory intensive course that focuses on building research and laboratory skills.
The program is specifically designed to reach young women from groups underrepresented in STEM, including Black, Latina, and Native American women, as well individuals who identify as female (cisgender, transgender) and non-binary. At-home kits provide students with a personal set of scientific equipment including micropipettes, tube racks, and microscopes, enabling them to conduct hands-on laboratory investigations through simulated biotechnology techniques including gel electrophoresis, ELISA, microscopy, bacteria culture, and column chromatography.
During the rigorous, hybrid learning experience, students connect with professionals from a diverse set of backgrounds and build career readiness and networking skills. Participants will complete three lab activities using at-home science kits provided by Learning Undefeated. Although content varies by cohort, during a typical laboratory intensive students explore CRISPR-Cas9 gene editing and genetic engineering and gain expertise in transformation, gel electrophoresis, and polymerase chain reaction (PCR).
In-person laboratory experiences will include insider tours of AstraZeneca's biomanufacturing facility in Newark. Stay tuned to learn more about the program that will begin in April of 2022.